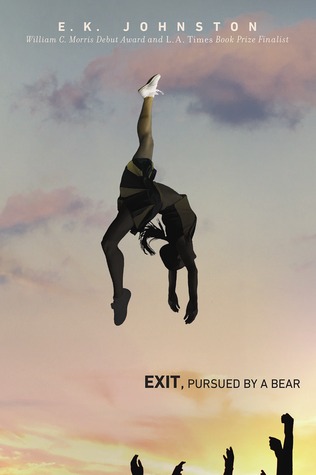 Review for "Exit, Pursued by a Bear" by E.K. Johnston (2016)
Rating: 2 out of 5 stars
As soon as this book came up on NetGalley I immediately wanted to read it. I didn't request it there because I've got so many books in my NG queue (I'll probably be reading until Christmas), so I downloaded this from Amazon. At only 250 pages it's a quick read, but one that completely perplexed and frustrated me. Let me explain.
NOTE: Spoilers abound here. #sorrynotsorry
Hermoine Winters is a talented cheerleader in a small Canadian town, surrounded by friends and high expectations for her senior year. On a summer evening during the last night of cheerleading camp, she is slipped a drug in a drink by an unknown assailant and raped. When she awakens, she remembers nothing of the attack.
In theory, I should have loved this book. Hermoine defies everything about a rape 'victim' that we have ever been previously told or read about. She is bold, undeterred by people's whispers and stares, and determined to move on with her life. Her friends, family, cheerleading coach, and her therapist rally to her side and support her. But that's where the 'good' part of this book ends. I had incredible difficulty with Hermione as narrator. She is so emotionally detached here that she may as well have been on another plane of existence. Her whole 'I don't remember it, I'll be ok' attitude perplexed me. I understand that this is more than likely due to the trauma of not remembering her attack, but it distanced me from the story and did not make for a compelling narrative here. There were also deeper, more introspective events in the story that warranted discussion that were glossed over by the author with little to no fanfare at all. Her best friend comes out as a lesbian. Hermione has an abortion as a result of the rape. Although she senses who her perpetrator was, he is never caught or prosecuted. Throughout the book I kept waiting for that YES! moment in the story for Hermione to break out of her shell and claim her right to get fucking angry, but it never happened. The story managed to take all of its issues and wrap up neatly and then…exeunt.
A blurb in the back of the book by the author discusses how she wanted to stress the importance and value of support networks for rape victims. I certainly understand this, but perhaps this trope is overstressed here, to the detriment of the believability of the book. I mean, shit…we live in a society that still does not know how to discuss or even begin to address rape as an actual crime. The fact that there continues to be a raging debate over whether or not Bill Cosby's admitted drugging of women was wrong in the year 2016 shows that many people still do not even consider this deplorable action to be a crime. Hermione drifts through this book facing the scorn of no one, and, other than an unnamed reporter who tries to slut-shame her, she faced little, if any, actual on-screen harassment. Her reality just did not feel real, it felt rushed and unrealistic.
Overall, the writing here is nothing to brag about. It wasn't the point though, as I would have went higher in my rating had the main character connected with me. I've praised many books where the writing wasn't that spectacular, but I formed a bond with the character. Despite my harsh criticism, I do recommend this book. Just because the main character did not connect with me does not mean she will not with you, or that you won't get anything out of this book. If anything, I came away from this novel appreciating the fact that the author chose to write about the topic of rape/sexual assault, as it takes courage to do so.