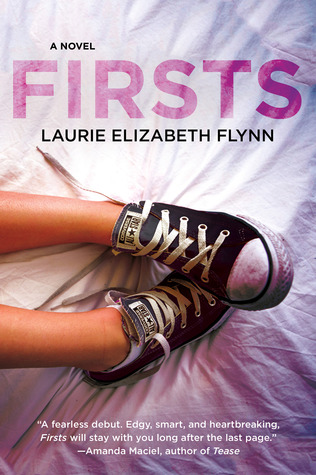 Review for "Firsts" by Laurie Elizabeth Flynn (2016)
Rating: 1.5 out of 5 stars
Man, this book sucks…
Possible spoilers abound. #sorrynotsorry
Mercedes (or, Mercy) Ayers is a 17 year old girl who provides a unique 'service' to the boys at her high school. Boys looking to get their first time awkwardness over with and 'learn the ropes' come to her for their first sexual experience. All she asks for in return is their secrecy and that they give their girlfriends the perfect first time, something that she herself never had. All goes well until she hits a snag with Zach, a boy who wants to be more than just an occasional a sex partner, and her best friend Angela, a 'prayer group nerd' whose boyfriend Charlie throws a monkey wrench into Mercedes' life.
Lemme say this: I knew this book would be about sex. Sex scenes, sex positions, sex, sex, sex. I don't have a problem with it, but the way it was executed was way over the top–particularly for a high school context. Like who would think there would be so many male virgins at ONE school, scared of how they would perform sexually? Mercedes also spends extensive amounts of time with other things sex related, like her lingerie collection (satin, leather, lace, negligees, etc). Dude, she's seventeen. How does she know so much about this topic? Yeah, she's no virgin, but the author portrays Mercedes as practically a porn star with specific knowledge on how to please each boy she takes on, based on his perceived attributes. Bitch, please.
As far as the character herself…make no mistake, girlfriend is a train wreck. Mercedes' mom (not called Mom, but by her first name, Kim) is a liquored-up, Botoxed divorcee who's never at home, her father abandoned the family long ago, and "her first time" was far less than ideal. The author spends a lot of time in this novel discussing Mercedes' home life, trying to get you feel for her and to empathize with why she does the things she does. And I understand, I really do. But come on…I'm not saying Mercedes is a bad person for having sex (she does use condoms, btw) but did she really think she could have sex with a double-digit number of guys at one high school and for it not get out? And not just any guys, but OTHER PEOPLE'S BOYFRIENDS? Come on, now. I'm not one for slut-shaming, but you can't blame an entire school for incurring their wrath upon her once they heard the truth about her side chick exploits…
I just can't believe this book is anywhere near a realistic portrayal of the sex lives of high schoolers. I know it's been a long time since I've been in high school, but still. No way.