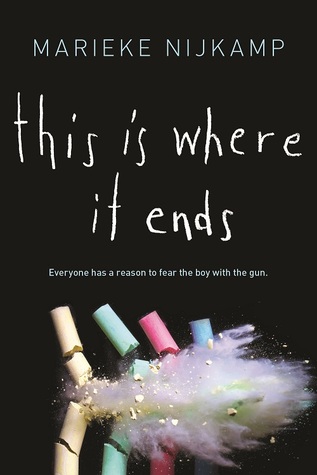 Review for "This is Where it Ends" by Marieke Nijkamp (2016)
Rating: none
DNF'd at 250 pages. Yep, I was actually almost finished. But the horror of this…oh no, not today, Satan…
What this is: a narrow, ridiculously unclever book told from the perspectives of four students in an Alabama high school surrounding the events of a 50-minute shooting spree/hostage situation. Several students, teachers, and the principal are gunned down after the student shooter traps the unsuspecting student body in the auditorium during an assembly and kills some and terrorizes others for nearly an hour. The characters are bland and indistinguishable from the other, and the shooter is so cartoonish in his evilness it's laughable. It's literally just bang bang bang…then one of the characters presents us with a flashback. You get to the end and find out that he shoots and kills his classmates not because he was bullied or had a mental problem or he was angry but because well…he wanted to.
Maybe it was the violence at the LGBTQ club in Orlando the night before that caused this book to strike such a sour note for me. I am not saying that mass shooters aren't evil, but the acts they commit cannot afford to be reduced to such simplicities. I don't shun violence in literature, but it pays to give those who perpetrate it depth, specifically if you would like to understand why it occurred in that particular context in the first place.
I recommend Jennifer Brown's "Hate List," Jim Shepard's "Project X," and Shaun David Hutchinson's "Violent Ends" if you'd like more fleshed out, realistic, and thoughtful discussions of school violence in YA literature.