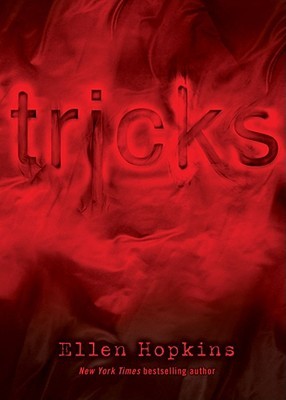 Review for "Tricks" by Ellen Hopkins (2009)
Rating: 3 out of 5 stars
This is my second book by Ellen Hopkins. My first was "Crank," her novel in verse about a girl hooked on crystal meth, based loosely on the life of her own daughter. Hopkins is quite a prolific YA writer, tackling many of the issues that people tend to avoid when writing for teenagers. She's written about drug abuse, mental health issues, sexual abuse, eating disorders. I'm not so much a fan of her verse as I am her fearlessness, because I admit that I'm drawn to her books for much of the reason I imagine most people are, to see how certain issues are portrayed for a YA audience.
"Tricks" is no exception; it tells the story of five teenagers who find themselves for various reasons lost in the dangerous world of prostitution. Eden is the daughter of a conservative religious family who is sent away to a Bible camp; Seth is a farm boy who struggles with his sexuality and finds himself a Vegas sugar daddy; Whitney is a goody-goody who stumbles into the arms of a drug-dealing pimp; Ginger is from a broken home and her entrance into the sex trade mirrors her own mother's, and Cody is a kid who sells himself to men to ease his gambling debts.
I would have preferred to read each character's story straight through, much like a short story. Instead, Hopkins focuses on one character for while, then abruptly switches to another. The constant starting and stopping of the narrative made it hard to get to know each character and made the book as a whole hard to follow. It never really had a good sense of cohesion and gave it the feel that it was five separate stories instead of one. There was some overlap of the characters, but it was fairly minor (one character mentioning another did occur, but only in passing).
This book is also really explicit in its sexual scenes. I won't go into detail but if you're unfamiliar with gay porn or girl-girl-guy threesomes I would leave this book on the shelf. I'm in my 30's and I felt uncomfortable reading it, not because I'm a prude, but for the sake of the audience it was written for. Personally I wouldn't allow my teen son to read this unless he was super-mature, which he isn't. The details were a little too salacious for my taste and the story got lost in the process.
There is a second story in this series that picks up where the action of this story left off. I may read it eventually, but for right now I think I'm good with this.