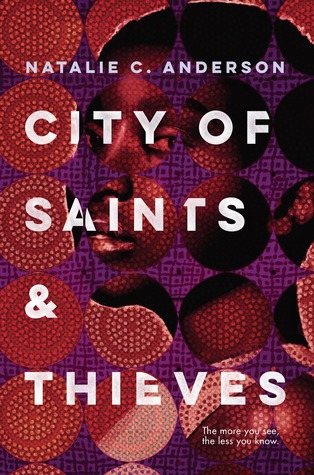 Review of "City of Saints and Thieves" by Natalie C. Anderson (2017)
Rating: 3 out of 5 stars
Tina is a Congolese refugee and a motherless child, as well as one of the few female members of the Goondas, a gang of street thieves in Kenya. She cares for her younger sister, Kiki, while she fantasizes about revenge on Mr. Greyhill, a wealthy business magnate and employer of Tina's mother, whom she suspects had her murdered after learning of his shady business dealings. With the help of the Goondas, Tina breaks into the Greyhill's estate and is discovered by their son, Michael. The two form a reluctant alliance and go deeper into the dark side of Kenyan society to discover who murdered Tina's mother.
With all that said, this was supposed to be a good book. The writing is fine, the setting is well-researched, and the character is kick-ass, there's no complaints there. I think where this book lost me is somewhere in the middle when it lost the feel of a true revenge thriller. There really is only one suspect, and we find out before the middle of the book is over that it isn't him. Although we know Tina seeks revenge for her mother's death, that plot turn is also settled fairly early on in the novel. That left this book kinda hanging by a thread and less about the mystery we were promised and more about a girls' search for her past. Not bad, just not quite what I expected.
Three stars–no more, no less.