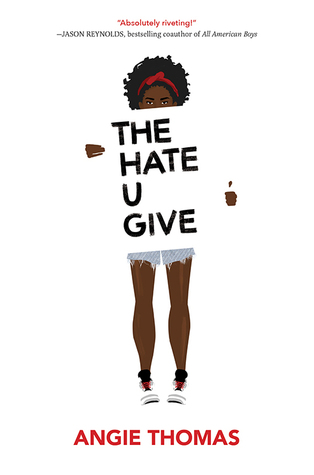 Review for "The Hate U Give" by Angie Thomas (2017)
Rating: 3.5 out of 5 stars
I don't know, ya'll. 3.5 stars for me.
This is probably one of the most authentic books I've read this year. It deals with a very timely issue: the police killing of an unarmed Black man during a traffic stop. "The Hate U Give" is the story of 16-year-old Starr, a Black teenager who lives in a predominantly Black neighborhood who goes to a mostly White prep school. Starr has difficulty fitting in at school but she manages to maintain friends, a relationship with her boyfriend Chris, and hold down family life until she witnesses the death of her childhood best friend, Khalil, by a White cop during a traffic stop. Khalil, of course, was unarmed.
After the shooting, Starr's life goes into a tailspin. She is torn between wanting to speak for Khalil and maintain a social status among her mostly White upper class friends, who believe the media accounts that Khalil was a drug dealer. She also deals with violent riots in her neighborhood, gang conflicts, and the problems that come from having dysfunctional family members.
Overall, this is a good book. I won't entertain the arguments of some online reviewers who call this book racist (privileged readers who can't understand the historical implications of institutionalized racism in America), a heavy handed promotion of the Black Lives Matter movement (who were never mentioned once), or "anti-cop" (failing to recognize that the main character had a positive relationship with an uncle who works in law enforcement). What makes this book 3.5 stars for me was its structure, which in my opinion wasn't very good. At nearly 464 pages, this book waffles along and dabbles in far too many extraneous details. It could have been cut by about 200 pages and it would not have suffered at all for lack of information. It's almost as if the author followed every single detail of an already overloaded plot to its own end, so much so that by the middle I found myself skipping pages. Yeah.
For those of you who follow my reviews, you know that there are some books I don't like and don't recommend, because I truly feel that they would be a waste of your time. This one is not the case. Regardless of how I felt about this book's structural issues, I do recommend that you read it and form your own opinion about the issues that are explored. There is a movie deal in the works, so it would be beneficial to read it before seeing it on screen.