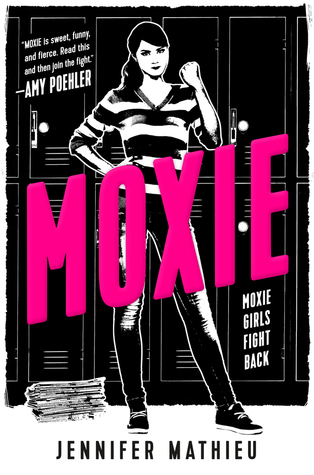 Review for "Moxie" by Jennifer Mathieu (2017)

Rating: 3 out of 5 stars
I know this book has gotten glowing praise from many of its readers, but I was underwhelmed with this one. I know I'm jumping off a cliff by saying this, but this book was just ok for me.
Vivian is an average teen living with her single mother in a small town in Texas. Aided by her mother's Riot Grrl memorabilia and fed up with sexist administrators, Vivian makes an anonymous zine to protest the unfair treatment of girls at her high school and empowers them to fight back. The zine catches on, and most of the girls at the school eventually join in her fight. In the middle of all of the brouhaha, Vivian manages to snag the hottest artsy guy in school, who, it turns out, is sympathetic to her feminist goals.
My main concern with any feminist text is how it addresses intersectionality. As a woman of color, I'm critical of any text that claims to be feminist, yet focuses exclusively on the voices of White middle class women. Fortunately the author does address the issue, about midway through the novel when Vivian reveals that her mother once said that "Riot Grrls weren't as welcoming to other girls as they could have been." Well, no ma'am, they weren't. There is a Latina and and Black girl at Vivian's school who join the Moxie movement, yet we're supposed to believe that their perspectives and concerns (jerky football players and dress code checks) are the exact same as Vivian's. Sorry, but I simply don't believe this. Where is race here? How does the author manage to make women of color so one-dimensional in this book? Gimme a break.
Which brings me to the last issue: race. While she does addresses the problem of inclusivity, Mathieu's fictional small-town Texas world is devoid of any mention of racism. I praise the author for addressing the elephant in the room, but I just don't think it goes far enough. As far as gender, there is a reference to a lesbian character, albeit a brief one. The problems that arise from race, class, sexuality, and gender will always overlap (hint: why it's called intersectionality), and I simply wanted more from the Black, Latina, and LGBTQ characters here. What you get instead with this book is a lot of romanticizing on the 90's Riot Grrl movement, which, let's face it, was not as inclusive to race and gender as it should have been.
Overall, not a bad book, but not a great one either. Three stars is my best recommendation here, though I look forward to (possibly) reading more of this author in the future.