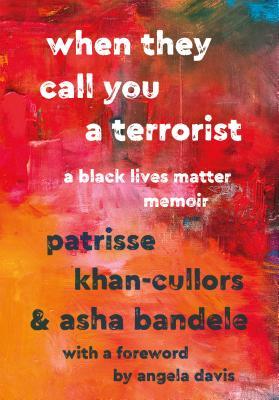 Review for "When They Call You a Terrorist: a Black Lives Matter Memoir" by Patrisse Khan-Cullors (2018)
Review: 4 out of 5 stars
Ahhh, this is a good book. Even though it is about the life of one of the founders of the Black Lives Matter movement, Patrisse Khan-Cullors, there is sooooo much more than just BLM rhetoric here. It begins with Cullors' childhood in Los Angeles, growing up poor and constantly harassed by law enforcement. Her single mother works multiple jobs and never quite gets by, and without much adult supervision, both of her brothers eventually end up in the prison system. One of her brothers, whom she spends multiple chapters describing the plight of, was severely mentally ill and systematically abused by the prison system. It is tragic and harrowing, anyone who reads this book will come away with a detailed understanding of Cullors' rage at law enforcement, the justice system, corrections, and pretty much every institutional system in America.
The author herself is bisexual (she describes herself as queer). She spends a lot of time discussing the fact that Black Lives Matter was founded by three queer women and is a mostly women and LGBTQ-headed movement–though the way it is conveyed in the press, you would not know this. There is also a discussion of the full agenda of the movement, which encompasses far more than just an end to police violence against people of color. In addition to the rights of Black citizens, Black Lives Matter stands for economic justice, health insurance, prison reform, educational reform, ending domestic violence, an end to the abuse of immigrants and unfair deportation, and so on.
Regrettably, much of what Cullors and the Black Lives Matter movement has worked for in the last few years has been undone in the past few months by the current president and his administration. This is lamented in the last part of the book. It's not an ending, however, but a call to action, hope for the future.
Once again, this is a timely read and great book.
[A digital copy of this book was provided to me by the publisher, St. Martin's Press, and NetGalley, in exchange for an honest review.]