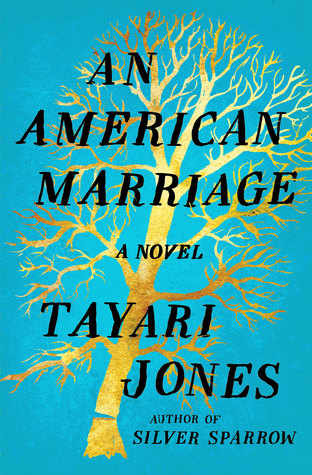 Review for "An American Marriage" by Tayari Jones (2018)
Rating: 4 out of 5 stars
Because there's such a long waiting list to check out this book at my city's library, I ended up getting a hold of the audiobook version of this through Hoopla. Ultimately I'm glad I did that, because I thoroughly enjoyed the audio version. The two actors reading the story breathe a kind of life into it that I don't think I would have experienced had I chosen to read it.
"An American Marriage" is the story of Celestial and Roy, a newly married couple residing in Atlanta. For all intents and purposes, they are a mismatch: Celestial is well-grounded and from an urban upper class family; while Roy has a roaming eye for trouble and is from a rural working class upbringing. Despite their differences, they are happy. The couple is only a year and a half into their marriage when Roy is falsely arrested for rape and sentenced to 12 years in prison. From here the novel goes into epistolary form, with the separated couple writing letters back and forth to one other. Roy finds himself adjusting to prison life, while Celestial makes the most of her loneliness and despair in Roy's absence by creating dolls with her husband's likeness. She also finds success as an entrepreneur, traveling the country and selling her dolls.
Eventually, Roy is released from prison after 5 and a half years due to a technicality with his trial. He returns home, but both Celestial and Roy find that the terrain of their marriage, as well as who they are as people, have vastly changed. I won't give away the rest of the story, but I will say that Roy's release from prison happens early on, at about 35% into the book. There is literally an entire story line after this event that gets very messy for both Celestial and Roy, and not in a good way.
This novel is not a quick read. It's a slow burn of emotion, with a marriage disintegrating at the center. Both the motives and lives of Roy and Celestial are explored in detail, both characters take turns being both right and wrong.
This book is a solid 4 stars. I can definitely understand why it's getting the press it's getting, because it's definitely well deserved. This one's a triumph, definitely read it!