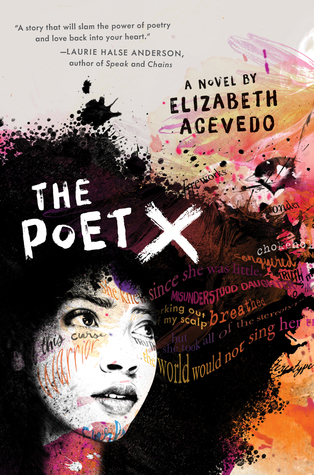 Review for "The Poet X" by Elizabeth Acevedo (2018)
Rating: 4 out of 5 stars
This is a beautiful book.
Xiomara Batista is a Dominican teenager growing up in present-day Harlem, NYC. She writes poems in her notebook to express her honest thoughts, mostly on her best friend, her twin brother, her father, and her ultra-religious, overbearing mother. Outside of her brother and her best friend Xiomara does not have much of a social life, she is forced to attend church services and confirmation classes by her mother. Her life changes, however, when she falls in love with a boy from her school and is encouraged to pursue her poetry by one of her teachers.
A lot of the trophes in this book are a bit cliche: first love, parental misunderstanding, the questioning of religion, discovering one's voice through poetry. Oddly though, while reading this I never really considered these things as 'done before,' I just found myself getting lost in the book and letting Xiomara's words shine through. I loved the poetry here, I loved Xiomara.
I normally don't care too much for novels in verse, I find most poetic narrative styles kind of stuffy and trite. Not so with this book, I could have read this for another 100 pages. Very well done, highly recommend.