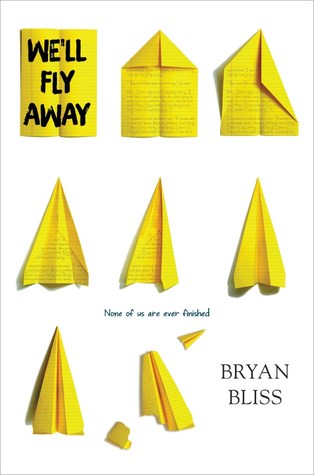 Review for "We'll Fly Away" by Bryan Bliss (2018)
Rating: 4 out of 5 stars
A very well written, hard hitting YA book.
"We'll Fly Away" is the story of two boys, Luke and Toby, who have been friends for most of their lives. Luke, the stronger of the two, is an athlete who dreams of college success through wrestling, while Toby, aimless and a victim of his father's physical abuse, relies on Luke to protect him. Both boys long to escape their rural North Carolina town (ironically, the setting of which is only about an hour away from me) and bond over a broken down airplane they discover in the woods as kids. Interestingly, the theme of flight is all throughout this book, even though it is apparent early on that neither of these boys are going anywhere. Escape, it seems, is only possible through death and/or violence.
When the story opens, we discover that Luke is in prison, writing letters of apology to his friend Toby. We are not told why he is on death row, but it is obvious that he is there for a horrible crime. In his letters, Luke struggles with his morality, getting along with inmates, and other adjustments to prison life. The story switches between his letters to a third person narrative of the events leading up to Luke's imprisonment. In the third person flashbacks, we learn that Luke's life isn't free of dysfunction either. When he isn't wrestling, Luke is taking on way more responsibility than he should, watching over his younger twin brothers while his mother takes up with different men. Toby's father, a local criminal, physically and emotionally abuses him, leaving him with a lack of social skills that lead him into conflicts at school. Luke, ever Toby's rescuer, comes to his defense time and time again.
I won't go into too many of the details of this story to avoid spoiling it. I will say, however, that this is a fairly solid book that examines male friendship, difficult choices, and the criminal justice system in a very meaningful way. Even though there was a bit of a lull in the middle of this, the ending was shocking enough to make up for everything it lacked in between.
Definitely recommended.