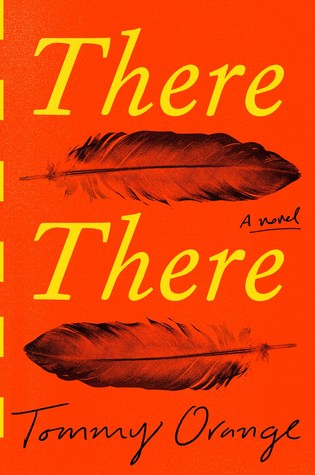 Review for "There There" by Tommy Orange (2018)

Rating: 4 out of 5 stars
Here's a fact about me: whenever I see a book by a Native American author other than Sherman Alexie winning loads of critical praise, I'm going to read it. Tommy Orange's There There is one such book–much praise, reviews in major publications. I reserved it months back and finally jumped on it when my copy came up on reserve at the library. I read this in about 4 sittings over a 4 day period.
There There is a unique narrative in that it explores a group that has never really been given a voice–urban Native Americans. In this novel, the characters come from various tribes and live in and around the city of Oakland, California. Orange writes about their search for identity and explores the 'old' problems that surround this community (alcoholism, domestic violence), as well as modern ones (cultural appropriation, loss of traditions, etc). The author uses an ensemble approach, telling the interconnected stories of various attendees headed to a local powwow.
Unfortunately though, this is a book loaded with problems. For one, there are about a dozen different perspectives in this book. Even though the same characters are visited over and over again leading up to the powwow, I felt there were far too many perspectives, too many voices here to keep up with. I kept having to look back at other sections to remember who was talking, and at about 50% into the book I gave up trying to connect all of the dots. You never really get to know any of these people before their 8-10 pages is over and it's on again to another person. I would have much rather the author focused on less people and fully fleshed out his characters more.
Also, I didn't feel the writing was anything to write home about. The dialogue was bland, the descriptions too stripped back. A lot of telling, as my creative writing teachers would say, and not enough showing. In many places, a person's entire life was contained within less than 5 paragraphs. It seemed too rushed, like a false start. In other places the writing was mad awkward, like the two times we're told that a character has his head "on a swivel." (*eyeroll*)
The ending is anti-climatic and the book simply just…ends. It's weird. We're never told what happens to any of the characters. I just turned a page near the end, and that was it.
Strangely, the prologue to this book was quite beautiful. It's a thoughtful meditation about the attempted genocide of indigenous people, told historically and figuratively through the motif of the infamous Indian-head test tv pattern. I was kinda disappointed when this part was over, 'cause I could have read this for another 50 pages. It's never OK when the prologue is better than the story, but I'll digress here.
As much as I didn't really care for this book, I won't go lower than 4 stars. There is a story here, somewhere in the rubble of all of this. I respect what Tommy Orange is attempting to do by giving us an alternate perspective of Native American life that's outside of the images of dusty reservations and old stereotypes. I just don't think this was executed well. This is his first book, however, so the structural issues are forgivable.
I definitely recommend this book, perhaps you'll like it more than I did.