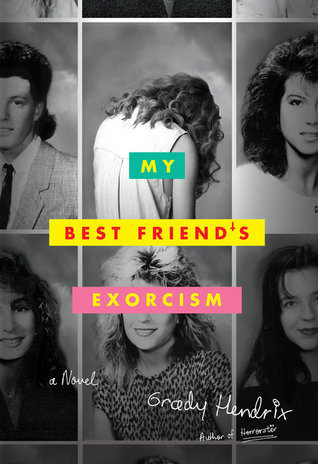 Review for "My Best Friend's Exorcism" by Grady Hendrix (2016)
Rating: 4 out of 5 stars
To read this book is to step into a E.T. movie freaked, Day-Glo'd, Swatch watch filled, Phil Collins and Tiffany mall rat music crazed past. I've been all about getting this book for the past few weeks, because any book that takes place in the 80's is truly a book after my own heart. From the first page, I must say that Grady Hendrix completely nails the setting of this story. Going to the roller rink, watching The Equalizer on TV, the ever-present "satanic panic," crimped hair…lemme tell ya'll, there was so much of myself in this book that it was hard to control myself from shedding nostalgic tears. Partly because the 80's were my childhood and one of the definitive times in my life when I was truly happy. The other part is because I saw so much of myself in the lives of the two main characters.
The novel focuses on the friendship of Abby and Gretchen, two teenage girls that have been the best of friends since grade school after bonding during an E.T. skating party gone horribly wrong. As they enter the tenth grade, they merge into a four girl clique. One night, after a skinny dipping disaster and a bad LSD trip, Gretchen disappears in the woods and later reappears acting strangely. Gretchen's parents refuse to intervene to help her, and things continue to go downhill for Abby at school. Eventually Abby makes the determination that Gretchen is possessed by an evil demon, and the "exorcism" begins…
Now this book doesn't stray too far from tried and true cliches of any exorcist-themed horror story–there's projectile vomiting, dead birds crashing into windows, bloody maxi pads, and demons that supposedly speak in German. Some scenes were genuinely scary and others were just plain gross. I won't give away all the specifics, but this book does mess with your head a lot. Is Gretchen truly possessed by the devil? Although you're led to believe that something sinister is definitely happening, the inclusion of such cliches makes you wonder. There's a kind of magical realism at work as Hendrix writes about these things as if he's serious, but all throughout reading you have to stifle your laughs. There's an undertone of humor here that can't be ignored and made all of the cheesiness (at least for me) forgivable. Besides, it was less about the horror element for me and more about the power of female friendship, which kept me reading and shone through everything else. I never stopped feeling for Abby or Gretchen and what brought them together in the first place. As I've said before, there is so much of myself in this book: finding a best friend, experiencing the time of your life with your best friend, going through the depths of hell and back with your best friend. That's what it was all about.
I think this book is best enjoyed by those who promise themselves before reading it not take it that seriously. With chapters named after popular 80's songs ("We Got the Beat," "I Would Die 4 U," "Total Eclipse of the Heart," and "867-5309/Jenny") you can't, because you're caught in an 80's time capsule and don't want to be let out.
Rock on. And gag me with a spoon.