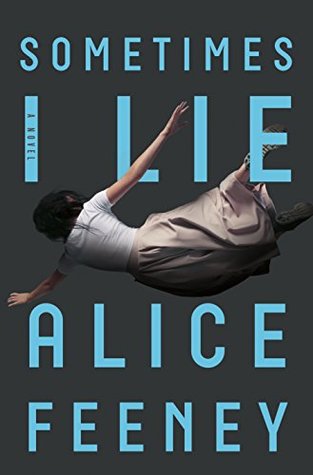 Review for "Sometimes I Lie" by Alice Feeney (2018)

Rating: 4 out of 5 stars
Ahhh…man. THIS book.
To tell you anything specific about the plot or the characters of this novel is to ruin it–so I won't. It's gotten really good reviews online, and this time I must say that the hype is well deserved. There is a blurb on the author's website that this book has been green lit for television, which is cool because as I read this I could totally picture this on Netflix or Hulu or something. Bingeable TV. There's also a sequel being written, which is set to come out in 2019.
So here's the basic "basics": When the book begins, Amber, the main character, is in a coma. She confesses immediately that she tells lies, and that her husband doesn't love her. She hears everything going on around her (her husband and her sister's visits, for instance) though she doesn't remember the event that landed her in the coma. She eventually discovers that she's been in a car accident.
This book is essentially split into three parts that are narrated interchangeably: now (Amber's observations while in her lucid, comatose state), then (events leading up to the week before the accident), and before (childhood diary entries). Throughout much of the novel, I have to admit that I was completely in the dark about what each strand of the narrative had to do with the other. Gradually, however, the connections came into focus and lemme tell ya…things (and people!) were not what they seemed. There are several twists here, and even though I'm not a "twist-a-plot" lovin' kinda person, it worked perfectly here.
As I finished this book I immediately realized that it plays with two very common tropes–the unreliable narrator and the complex nature of female friendships. It's really nothing new in fiction, but both of these things are mashed up here in a really hip, interesting way.
I loved this book. If you do read it, try to do so in as few sittings as possible–I guarantee it's better that way.
[A digital copy of this book was provided to me by the publisher, Flatiron Books, as well as NetGalley in exchange for an honest review.]