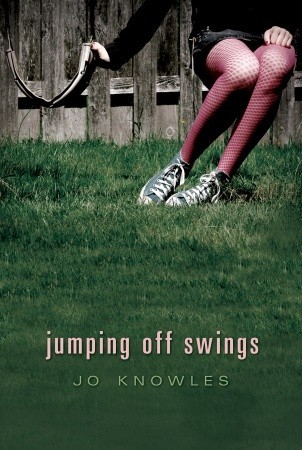 Review for "Jumping Off Swings" by Jo Knowles (2009)
Rating: 1 out of 5 stars
I've been on a gloomy reading kick lately, haven't I? This should lighten the mood for you softies. Spoilers abound, though. FYI–usually when I don't like a book, spoilers are inevitable, for no other reason but to explain why I didn't like it.
Anywho, YA books about teenage pregnancy are always kinda risky–on one hand the author wants to avoid glamorization, on the other hand the author can be completely out of touch with the sex lives of real teenagers. I picked this book up on a rainy afternoon at my local library because I was curious how a modern YA author tackled this subject. Needless to say, I was highly disappointed. I didn't like this book at all.
This book is told through four perspectives–Ellie, the teenage mom and the "town tramp," Josh, the reluctant virgin and the father of Ellie's baby, Caleb, a virgin and a friend of Josh's (who later falls for Ellie's friend), and Corinne, also a virgin, and a friend of Ellie's. The perspectives switch throughout the story, which I didn't like, because the only perspectives that we should be concerned with to develop the plot were of those directly involved, Ellie and Josh. Who wants to read a book about teenage pregnancy where only half is about the parents? There was no buildup of action here, and just when the momentum began, the POV changed again.
The characters here were mostly thin and underdeveloped. For the first half of the book Ellie doesn't say or do much other than cry while Corinne feels sorry for her and tries to help her. There is an indication that Ellie's home life isn't all roses, but beyond the standard, upper middle class dysfunctional stereotype (right down to the stoner older brother), there's not much that is said about Ellie. Josh's home life is a little bit more fleshed out, but not by much, as he stays isolated and wondering what the hell is happening with Ellie for most of the story. He doesn't even find out about the pregnancy until the middle of the book, long after all of the other three main characters do. Also, there isn't one single scene of Josh and Ellie so much as breathing the same air after she gets pregnant at the very beginning of the book, which I found to be completely bizarre. It's almost as if the author completely shut the door on these two characters ever speaking again after they procreate. Even if they weren't boyfriend/girlfriend at the time of the pregnancy, why are these two characters completely isolated from each other after such an occurrence? This made no sense at all.
I did come away with a full picture of Caleb, a child raised by a single mother. However, I never got a decent sense of Corinne beyond her interest in Ellie. Her home life seemed to be normal, but it's only vaguely mentioned in the book. At the end there was the indication Caleb and Corinne will embark on a relationship, fully aware of the "mistakes" of their friends and without the pressure of sex.
I put "mistakes" in quotes in the last paragraph because I completely loathed the message of this book. The message that Knowles is sending here seems to be that premarital sex is bad, unwholesome, and leads to not only a bad reputation (if you're female), but misery, isolation, and shame. This is simply ridiculous. It seems that there still cannot be a book where a teenaged female character has sex without some kind of horrific consequence—either getting pregnant, ostracism for being a "slut," or being forced to do something she completely disagrees with. In this book, all three happen to Ellie. Eventually she gives her baby up for adoption, but she clearly doesn't want to. And why does it have to end that way anyway? Plenty of teenage parents keep their babies and go on to live productive lives. Why is adoption presented as some horrifying fate that awaits the wayward, pregnant teenager? Arghhh…
Although the cover of this book was cute, I don't recommend this book to anyone–teens or otherwise.