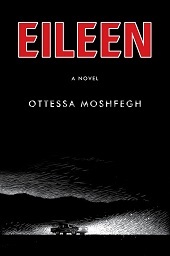 Review for "Eileen" by Ottessa Moshfegh (2015)
Rating: 5 out of 5 stars
"I kept in the glove box of the Dodge a dead field mouse I'd found one day on the porch frozen in a tight ball…I think it made me feel powerful somehow. A little totem. A good luck charm."
When I read these words, spoken by our main character Eileen Dunlop on page 9, I knew that we were going to be friends. Seriously. Not because I approve of people keeping dead animals in their cars, but because this is where the true brilliance of this book began. From the first pages you become acutely aware that you are talking to an older Eileen, reflecting back on the events of one week around the Christmas holiday of 1964, leading up to her permanent departure from her unnamed New England town.
This book goes hard on so many levels. It is one of the most fascinating character studies that I've read in a very long time. Eileen Dunlop is mentally unstable and a psychiatrist's dream: she is lonely, self-loathing, sexually repressed, passive aggressive, and neurotic, living in a filthy house with her abusive alcoholic father and sleeping on a rickety cot in the attic. She shoplifts, does not take regular showers, does not wash her hands, and is fascinated by her own bodily secretions (don't ask, ok?). She works as a secretary in a juvenile boy's prison and passes her days entertaining herself with lewd fantasies of one of the guards that works there. All of this is routine for Eileen until a charming, enigmatic young counselor begins working at the prison and changes Eileen's entire world.
I could not get enough of this novel. I loved her voice, the nuances of the narration. Moshfegh's writing is so skillfully consuming that despite Eileen's general unlikeable-ness, I never got bored or tired of her. Eileen obsessively self-scrutinizes under a perfect outward mask of self control, and Moshfegh explores every nook and cranny and cobweb of her character's brain. She is a perfect train wreck, and I could not look away. Eileen was like some rare, never-seen-before insect: intriguing and repulsing me at the same time. As I finished, my first thought was that this is a modern-day revamp of Sylvia Plath's "The Bell Jar," with its beautiful descriptions of a young woman's slow unraveling, a downward spiral into madness.
Be cautioned, however, that this book is not for everyone. A lot of reviewers find its lack of a definitive plot frustrating, the tension too drawn out, the ending a let down. I won't spoil it, but for all the criticism, the raw power of the character development here trumped all. I can excuse the ending, because for me it was all about the scenery along the ride. And I love every single moment of it.