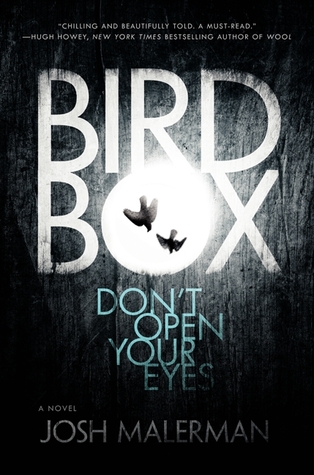 Review for "Bird Box" by Josh Malerman (2014)
Rating: 4 out of 5 stars
Wow….
I read this book like a ravenous wolf.
I read this book in a doctor's office, with sunglasses on and a chemically dilated right eye due to a corneal infection.
It hurt to read this book. But man, it was so worth it.
This book is post-apocalyptic fiction at its best. As is typical of this genre, this book begins with an Event which kills most of the people on the planet. Detailed specifics of the Event are never given, but referred to as the "Russia Report," a phenomenon that involves people suddenly attacking and killing other people before killing themselves. Before each attack, the person reportedly sees Something that disturbs them so deeply that they are driven to madness. It spreads across the Bering Strait from Russia and pretty soon the entire country's population is decimated. The only way to protect yourself from the Something is by keeping your eyes closed.
The main character is a young woman named Malorie, whom we learn is hiding in a house somewhere in suburban Michigan with her two young children. The kids have never seen the outside world. Malorie has trained them to hear all kinds of sounds, because they are to be her 'ears' as she travels with them to a safer place. They must go by boat, and they must all be blindfolded to avoid seeing the Something that will drive them to madness.
This book goes back and forth between Malorie's journey with her kids down the river to flashbacks of how she came to be in the house with her children four years before. Before the kids were born, she lived with several housemates who banded together, covered their windows, and stockpiled food in an effort to survive. What follows in these chapters is what made this book four stars instead of five for me–it's your all-too-typical, post-apocalyptic survival fare. There's worries over starvation, distrust among housemates, and of course, the ever present fear of the outside world. It is engaging to read, but it's nothing extraordinary that we haven't seen or heard already in a weekly broadcast of "The Walking Dead." Next…
I did love this book, however. There is an ever present dread throughout the story that begins from the first few pages and doesn't stop until the end. How far would you get in a post apocalyptic world without relying on your sight? The scare factor here isn't in what you're seeing, it's what in the dark around the corner. Or in broad daylight, behind your shoulder. Or sitting right next you. Oh well. You get the picture.
I won't give away any more of the book here. I won't even tell you why it's called Bird Box. But this is a hell of a book, and I heard its recently been greenlit for a movie version. Yay! But definitely DO read this first. Great writing debut by a first time author, a must read.