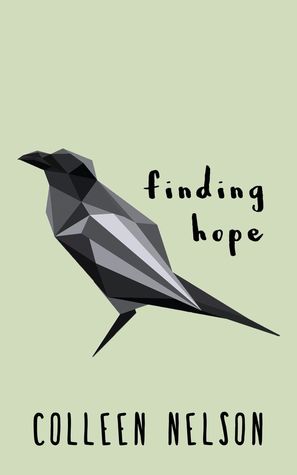 Review for "Finding Hope" by Colleen Nelson (scheduled to be published in April 2016)
Rating: 2 out of 5 stars
Closer to 1.75 stars, because "Finding Hope" didn't do it for me.
I won't spoil this book with small details because there's still quite some time left before its scheduled publication date. In a nutshell though, this novel focuses on Hope and her brother Eric, teenaged siblings who live in a small town in Canada with their parents. Eric is a promising soccer star with a bright future until he becomes entangled in a vicious meth addiction and gets kicked out of the family home. Meanwhile, Hope is sent to a private boarding school where she falls in (and quickly out) of favor with a cadre of mean girls. Their lives intersect at the most unlikely moment and Hope and Eric both make choices that impact their futures.
The story is told in the alternating POVs of Hope and Eric. This book is all over the place and a lot of topics are covered: sexual abuse, bullying, drug addiction, homelessness, etc. Hope is naive and an enabler of Eric's addiction, stumbling into one bad choice after another at her new school. Eric's chapters are far more compelling than Hope's, but the one thing that got me here was the bland storytelling, the predictable plot lines. There's nothing in this story that you don't see coming a mile away. Although I sympathized with both characters, they became quickly forgettable once I turned off my Kindle. There's nothing the author does here to draw you to either of them beyond just a general understanding of their respective situations.
Wouldn't read this again, but am open to reading more from this author. On a lighter note, I love the cover art of this book. BEAUTIFUL!
[Note: I received this advanced publisher's copy from NetGalley and Dundurn Press in exchange for an honest review. :-)]
Other note: TOMORROW, NOVEMBER 29 IS MY BIRTHDAY!! YAYYY! I won't tell you how old I am, other than to say that I have long been old enough to call myself a true "80's baby." I'll pretend it's my 32 birthday again, for the umpteenth time. Ha!