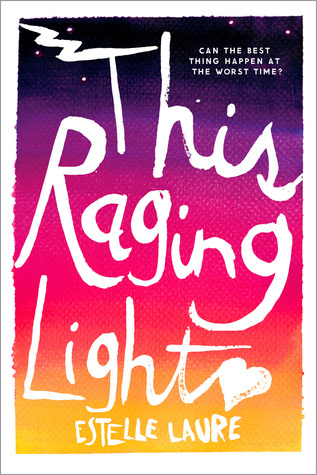 Review for "This Raging Light" by Estelle Laure (scheduled to be published in January 2016)
Rating 2 out of 5 stars
Special Note: This book is currently available on Amazon, although the publishers' copy I have in my possession says "January 2016" as the scheduled publication date. For purposes of this review, I will go with the publication date of the copy that I was furnished with.
I struggled to finish this one. Well, ok…I kinda liked it. When I say that, I really mean that I think I liked the idea of it more than its actual execution on paper. So many things in this book just didn't work for me.
Beware, spoilers abound (#sorrynotsorry)…
Lucille is 17, and her life is turned completely upside down when her mother decides she's had enough and abandons her and her 9 year old little sister Wren to go "on a vacation." Her father is in a mental hospital and the supposed cause of their mom's breakdown. The book begins 14 days after their mother's departure, with Lucille taking on the role of caring for herself and her sister without alerting anyone to the predicament they are in. She eventually finds a job and leans on her friends to care for Wren while she's working in the evenings after school.
Which leads me into what I didn't like about this book. Lucille gets herself into a complicated romance with Digby, her best friend's twin brother who is very taken by someone else. Her best friend turns on her for some weird reason that's never really explained. There's drama at her job. There's issues with her father, whom she visits several times in the story. There's also some mysterious benefactor who seems to be aware of Lucille and her sister's plight and keeps slipping in and doing nice shit around their house (leaving baked muffins, mowing the lawn). It's far too many plot points and in the end NOTHING is truly resolved. Well, take that back–you DO find out who's dropping off the damn muffins, but that's about the only subplot that finds an ending here. Lucille's mother's abandonment is the lynchpin of this book, but the reader gets nothing as far as any kind of resolution to this.
The writing style of this book is a bit strange too. A lot of short, short sentences that left me struggling to understand what the author was trying to present the main character as. There is growth in the character of Lucille from the beginning to the end of the book, but I don't know…I think I just wanted more here. Like perhaps why she is so ga-ga for Digby in the first place. Their relationship is really awkward, and Lucille seems to get no more in return than his general concern about her and her sister's welfare. Weird, because when this book begins, the main character is quite love struck with this dude. Perhaps if this relationship had more of a backstory, then we'd get why he's going through the trouble of cheating on his girlfriend with her. Otherwise, it just seems flat.
Ultimately I'm on the fence with this book. It should have been a good story, but it felt unfinished and I never really connected with any of the writing, the events, or any characters here.
[NOTE: I received a free copy of this book from Houghton Mifflin Harcourt as a giveaway through GoodReads. This was my honest review.]