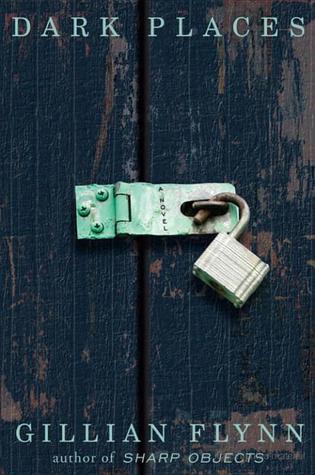 Review for "Dark Places" by Gillian Flynn (2009)
Rating: 2 out of 5 stars
I didn't care for this book.
Ok, ok…let me explain myself. Perhaps I went into this one somewhat biased. My only other Gillian Flynn experience was Sharp Objects and didn't like that one either. Flynn is a great writer, but her characters–diabolical, twisted females–seriously make me wonder if she has some deeply seated psychological issues with women. Fast forward to 3 years later and I decide to give Flynn another try. But lo, I didn't like this one either.
The plot: Twenty four years ago, Libby Day's mother and two sisters were brutally killed in the infamous 'Satan Sacrifice' murders of Kinnakee, Kansas. She testified that her brother Ben was the killer, and he was found guilty and locked away in prison. Today she is out of work, living off of sympathy donations from strangers. When a crime enthusiast group called the Kill Club reaches out to her about the murders, Libby agrees, for a price, to talk with them. From there, Libby begins to question Ben's guilt and what really happened on that night.
The first quarter of this book actually starts off promising. Its dark with sinister undertones, with just the fair amount of suspense to keep you turning the page. But then it just gets…well, boring. It flashes between Libby in the present and Ben and their mother Patty in the past, leading up to the night of the murders. Ben's narrative is far more interesting than Libby's, but both scenes are drawn out in such painstaking detail that the suspense wore off and there wasn't much to compel me to care anymore about any of the characters. The parts of the novel where I was supposed to be sitting on the edge of my seat I wasn't, and when the murderer was revealed at the very very end it was such a WTF moment that I stopped reading it right then and there. I won't reveal it, but it's the most contrived, ridiculous, deus ex machina bullshit I've ever read.
So there you go: two stars. Slightly better than Sharp Objects, but not by much. I may read Gone Girl eventually, though I seriously doubt it. I like Flynn's writing, but I think her stories and subject matter are just not my cup of tea. I'll pass.