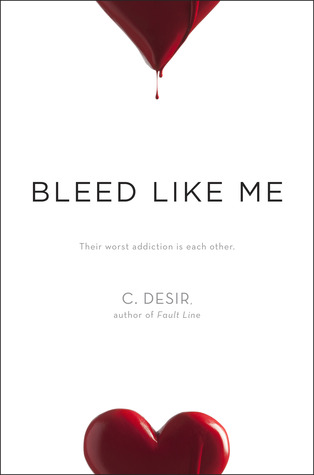 Review for "Bleed Like Me" by Christa Desir (2014)
Rating: 3 out of 5 stars
This book touts itself as "a Sid and Nancy-like romance full of passion, chaos, and dyed hair."
In a lot of ways, this novel does deliver on that promise. Amelia Gannon's (called Gannon by her friends) home life is not a happy one. Five years ago, her parents adopted three boys from Guatemala whose chaotic behavior overwhelms her parents to the point where they have no energy left to give her. Other than her job at a local hardware shop, cutting herself with a razor is the only relief for her anguish. She eventually meets Michael (called Brooks by his friends) and they immediately begin an obsessive, dangerous relationship. When Brooks first appears you immediately know he's bad news: he's a drug user, paranoid, controlling, and equally damaged, selfishly demanding all of Gannon's heart and soul.
This book was not an enjoyable read. Both of these people were so toxic by themselves, together the ol' proverbial 'train wreck' metaphor didn't do them enough justice. I read this book in about 4 sittings, and honestly I believe that was way too many. I didn't want to finish this book but found myself so emotionally invested in the characters that I wanted to find out what happens, just to see how far down the rabbit hole they would go.
The ending of this book felt rushed. There's an interesting story unfolding, and suddenly everything explodes and subsides within three pages. Big let down. Big big let down.