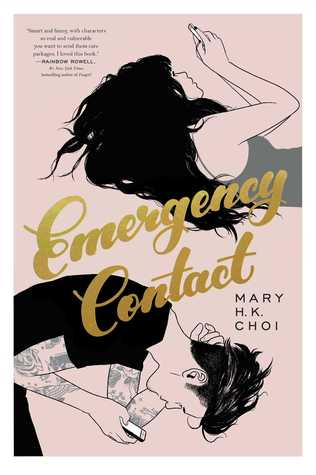 Review for "Emergency Contact" by Mary H.K. Choi (2018)
Rating: 3 out of 5 stars
This book is wildly popular right now. I follow the author, Mary H.K. Choi, on Instagram. A Facebook book club I'm in spoke in glowing terms of this and recommended it. I've gotten three emails in the past month from Kirkus Reviews, they also recommended this. Hell, even Rainbow Rowell recommended this. It's like God himself was screaming at me to read IT, so I did.
And errr…this book was kinda meh for me.
Without giving away too much of the plot: Penny is a introvert with a MILF-y mom that annoys her immensely. She goes off to college an hour away and meets Sam, a tattooed hipster dude who works and lives in a local coffee shop. They bond over their personal crises, texting each other as they deal with their respective family and personal issues. Penny discovers her love of writing fiction, Sam nurtures his desire to be a filmmaker. In the end, exactly what we expected to happen between these two happens–they fall for each other.
I said I wasn't going to give away the plot, but I actually kinda just did. I'm sorry. But honestly, that's like, it with this book.
This book is sweet and the language is kinda cool, but there's nothing here that I haven't read before. I suspect that one of the reasons why this book is so popular is because it has a rose gold toned, super cute Forever 21-ish looking cover. I know that sounds harsh, but dude…seriously, what's really here? It's just a run-of-the-mill YA love story. While I appreciate the way that the author does try to give the protagonist some depth, I realized that after I close this book I probably won't remember much about Penny anyway. What I most remember about Penny is her annoying tendencies, i.e., her hopeless fascination with Sam at first sight. No less than 5 times we're reminded by Penny of Sam's tattoos, ooooh ahhhh, as if we've never seen a tattooed man before. Is Penny's fawning, otherworldly reaction to Sam even real? Of course not. Girl, have a seat please.
Once again, not a bad book, but one that didn't really excite me either. Three stars.