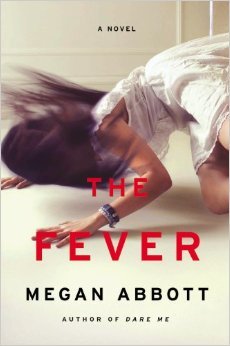 Review for "The Fever" by Megan Abbott (2014)
Rating: 3 out of 5 stars
(*sigh*)….3 stars, mates.
"The Fever" is a modern day tale that centers on a fictional small town, Dryden, during one particular winter in an unnamed state. Everything is seemingly perfect in Dryden until a popular girl, Lise Daniels, is suddenly afflicted with a violent seizure at school. One by one, the girls of Dryden succumb to the same mysterious illness–seizures, hallucinations, bouts of unconsciousness, etc. Teachers, students, parents, and health officials work themselves in a frenzy to get to the truth. What could be causing this affliction? Is it something in the soil? Mold in the school's air vents? Some strange, but yet unknown allergy? Environmental pollution? A side effect of the HPV vaccine that the girls of the town are required to take? A mutated strain of STD?
These questions swirl around for most of the book, and in the middle of the storm is Tom Nash, a teacher at Dryden High, and his two children, his daughter, Deenie, and son, Eli. Deenie's best friend is Lise, the fever's first victim. As the mystery illness continues to grip the community, all of Deenie's circle of friends are affected. Will Deenie be next?
I loved the writing style of this book. The characters leapt out of the story, and Abbott manages to write some beautiful sentences, which kept me turning the pages. The story is told in the alternating perspectives of Tom and his two kids, which I didn't mind, although the POV changed almost constantly–every half of a page or so. It's hard to tell a story when it's continually shifting POVs, but Abbott actually does an ok job of this.
My beef: the pacing, though. My God, this was slow. By page 150 I have to admit that I didn't give a damn about what the cause of the illness was anymore. Nothing really significant happens after the halfway mark for the next 100 or so pages until the truth is revealed at the end. It's a drag to read, so I skimmed about 75 or so pages of this book. Voilà.
Interesting sidebar to this novel: there was a spirited discussion for a while on Goodreads about whether this is a YA book or not. Personally, I feel it is not. This book has no business anywhere in the YA genre. Although it does feature teenage narrators and characters having sex and falling in love and lust, it doesn't center on those themes as much as it does the dysfunctional nature of the community around them. There's more of a 'noir' kinda feel here, a modern-day version of 'The Crucible.' So un-YA like, if you ask me…
I'd recommend this book if you like stories of lust filled teens and slightly twisted tales of suburbia.