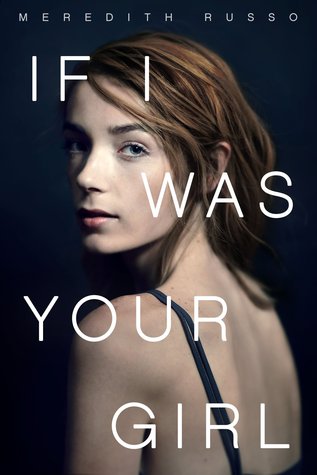 Review for "If I Was Your Girl" by Meredith Russo (2016)
Rating: 5 out of 5 stars
This is truly a book after my own heart. It's really really good, and I mean that. I had heard a lot of buzz about this book before it was published, so after a few weeks of watching my reserve status at the library, I finally got a notice to pick this up. Needless to say, I read this book in three days. I only paused to work on my lit review for my summer class, eat, and sleep.
Yes, it was that serious. This book had my soul.
"If I Was Your Girl" is the story of Amanda, a male to female transgendered teenager. When we first meet her, she has just moved from her mom's house in Atlanta where she has recently been physically attacked to her dad's apartment in a small town several hours away. At her new school, she quickly attracts the attention of a popular athlete and they begin a romance. Amanda is also surprised by how fast she makes friends and gains their trust, yet never revealing her own secret because she knows that her life could be in danger.
I can't tell you how this story compares to other stories of transgendered individuals, because I have to admit that this is the first of its kind that I've ever read before. There is no discussion of genitals or body parts, because from the first page you are simply seeing the character as you are intended to see her–as a girl named Amanda. There are several flashbacks throughout the book that give you a bit of info on Amanda's past (instances of bullying, a suicide attempt, her parents' divorce) but from this I came away with even more of an appreciation of Amanda and her bravery to live her life in the way that makes her happy.
There is a note by the author at the end that clears up some of the criticisms I could have made about this book. For one, Amanda is able at a young age to have the surgery and access to the hormones that so many cannot afford. She's also able to seemlessly transition into life as a female (she's told that she's beautiful, other people cannot tell that she was born male). The author writes that she did this so that readers could fully accept Amanda as a teenage girl. There is so little fiction right now that focuses on the trans community, so I think the author gives a decent argument for why she chose to portray Amanda this way.
"If I Was Your Girl" is one of those stories that, in my opinion, has to be out there right now. The fact that the author gives numbers for suicide hotlines in the conclusion shows that as a society, we have not progressed as far as we think we have when it comes to accepting people as they are. As a resident of North Carolina and home of the HB2 legislation (the infamous 'bathroom bill' that bans transgendered people from using the restroom that coincides with their chosen gender) makes it all the more important that we hear stories like Amanda's and remind ourselves that she and people like her are real people who deserve legal protection, consideration, and respect–just like anyone else.
Needless to say, I loved this book. If you read nothing this year, save room on your TBR list for it. You will NOT be disappointed!