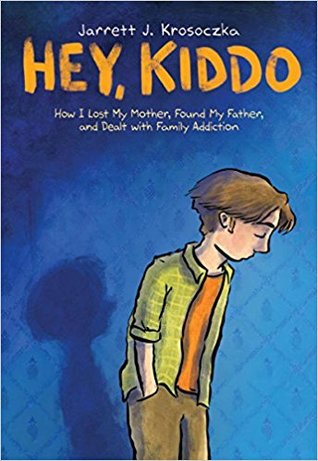 Review for "Hey Kiddo" by Jarrett Krosoczka (2018)

Rating: 5 out of 5 stars
Ayyy…first post of the New Year!! Happy 2019!
Heartbreaking but hopeful nonfiction graphic novel about the life of the author, Jarrett Krosoczka. After giving a TED talk about his upbringing and receiving an overwhelmingly positive response, he decided to create this book. I'm glad he did.
Jarrett was born in 1977 in Worchester, Massachusetts. His mother was young at the time of his birth and, as he would later find out, struggling with heroin addiction. His father's identity remained somewhat of a mystery, Jarrett does not learn his name until he is almost a teenager. For a time when he is small, Jarrett lives with his mother, though she eventually turns back to heroin and criminal activity. At the age of 3 he goes to live with his grandparents, who despite their own rocky marriage, love and raise Jarrett with all of the nurturing he could ever ask for. They take him to visit his mother in jail and throughout her detox stays, answer his questions and see him through school, but most importantly they encourage his desire to draw, which he does to escape from the pain of not having a mom.
The novel follows Jarrett until he graduates from high school. Although he does eventually discover his dad and develop a relationship with him, he continues intermittent contact with his mother due to her drug addiction. Years later, as a successful and best selling author, he decides to share this story to connect with other people.
Anyway, I loved this book. It is YA, but deals with very adult issues. I imagine that it resonates with many people, particularly now due to the overwhelming prevalence of the opioid/meth epidemic. Even as a middle school teacher, I taught many students who were being raised by aunts and uncles and grandparents, mostly due to their own parents being incarcerated or simply gone, addicted to drugs.
Five stars. Don't miss this.